Japanese Whiskys
Edit
Whisky production in Japan began around 1870, but the first commercial production was in 1924 upon the opening of the country's first distillery, Yamazaki. Broadly speaking the style of Japanese whisky is more similar to that of Scotch whisky than Irish whiskey or American styles of whiskey, and thus the spelling typically follows the Scottish convention (omitting the letter "e").
There are several companies producing whisky in Japan. Perhaps the two most well known are Suntory and Nikka. Both of these produce blended as well as single malt whiskies. Japan currently have ten distilleries.
They are: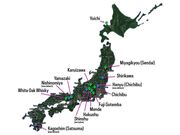 Ad blocker interference detected!
Wikia is a free-to-use site that makes money from advertising. We have a modified experience for viewers using ad blockers

Wikia is not accessible if you've made further modifications. Remove the custom ad blocker rule(s) and the page will load as expected.