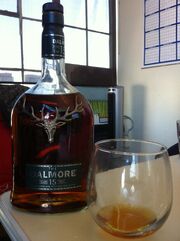 Dalmore is a Scottish distillery that produces highland malt scotch whisky. Dalmore uses water from its local waterway, the River Alness. The distillery was established in 1839. Dalmore's logo is a 12-pointed stag, which serves as the royally appointed coat of arms for the MacKenzie family, former owners of the distillery. The distillery is operated by Whyte & Mackay.
Dalmore's single highland malt scotch whiskey is made available at a range of different ages during its maturing process, with the most mature being 50 years....
Flavor Profile
Edit
Dalmore shows characteristically like other single malt highland scotches. It is smooth and distinct, with strong caramel flavors.
Ad blocker interference detected!
Wikia is a free-to-use site that makes money from advertising. We have a modified experience for viewers using ad blockers

Wikia is not accessible if you've made further modifications. Remove the custom ad blocker rule(s) and the page will load as expected.