Jack Daniel



Real Name

Jasper Newton Daniel

Birth

September 5 1850,
Lynchburg, Tennessee, United States of America.

Death

October 10 1911, (aged 61)
Lynchburg, Tennessee, United States of America.

Years active

1862 (12 years old) to 1911 (death)
"Every day we make it, we'll make it the best we can."
Jasper Newton Daniel
Jasper Newton Daniel (September 5, 1850 - October 10, 1911), is a world-famous American distiller, known for being the creator of the Jack Daniel Distillery, seven times awarded and highest selling American whiskey distillery in the world, specialized in sour mash charcoal-mellowed Tennessee whiskey.
Early years
Edit
Jack was one, actually the youngest of ten children born to Lucinda and Calaway Daniel. He's been raised in the Primitive Baptist Church. His paternal grandparents immigrated to America in the late 18th Century, being of Welsh, Scottish and Irish descent.
Nobody actually knows his birthdate, his birth records being burned in a town fire, sources say that Jasper was born on January 1849, but it is a tradition to celebrate his birthday on September, the 5th.
After the death of his mother, mostly because of birth difficulties, his father remarried and had three another children with Matilda Vanzant.
Distillery
Edit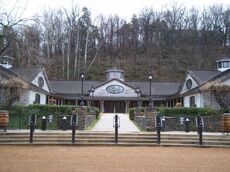 The distillery was founded in 1866, but Jack Daniel started to produce whiskey and 1875. One year later, in 1876, the famous -- legendary
Old No. 7
was born, why number seven, no one knows.
Jack Daniel never got married, so he took one of his nephew, Lem Motlow, under his wing and made him the first proprietary of the distillery. And due to his falling health, Jasper gave the distillery to both of his nephews, but Lemuel bought the other one's part and became the owner of Jack Daniel Distillery. Lem died in 1947, after 40 years of work on the Jack Daniel Distillery.
In 1905, frustrated by the fact he couldn't open the safe in his office, Jack Daniel kicked the safe, breaking his toes and infecting them. 6 years later, in 1911, Jack died from the blood poisoning (sepsis) caused by the infection of his fracture, at the age of 61 (or 65, depending on the newspaper you read).
[1]
Daniel's modern biographer said that the story was all wrong, but the members of the Jack Daniel Distillery believe that it is a true fact, and a realistic theory.[2]
References
Edit
Ad blocker interference detected!
Wikia is a free-to-use site that makes money from advertising. We have a modified experience for viewers using ad blockers

Wikia is not accessible if you've made further modifications. Remove the custom ad blocker rule(s) and the page will load as expected.