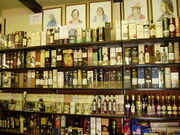 Specialist whisky shops (whiskey stores in American English) stock a much wider range than your local store or supermarket wines and spirits department. They usually also offer limited edition bottling's from individual casks and closed distilleries.
Specialist shops
Edit
list here
Ad blocker interference detected!
Wikia is a free-to-use site that makes money from advertising. We have a modified experience for viewers using ad blockers

Wikia is not accessible if you've made further modifications. Remove the custom ad blocker rule(s) and the page will load as expected.